Integration Overview

Appointy-Zapier integration allows connecting Appointy to 1000+ of other web services through Zapier. Automated connections called Zaps, can be set up in minutes with no coding, can automate your day-to-day tasks and build workflows between apps. In each zap, one app acts as the trigger or the source of data/information which is automatically sent to the other app. This data/information then causes one or more action(s) in the other app.
Each Zap has one app as the trigger, where your information comes from and which causes one or more actions in other apps, where your data gets sent automatically.

The article covers
 1. Terminologies
         1.1.1 Zap
         1.1.2 Triggers with Appointy
         1.1.3 Actions with Appointy
2. How to configure Appointy and Zapier
3. Popular Zaps
4. FAQs
5. View integrations
1. Terminologies
1.1 - Zap

A Zap is a link between your selected apps on Zapier. A Zap is a noun, not a verb. Add new customers from Appointy to MailChimp subscribers list would be an example of a Zap. You can see all your Zaps from your Dashboard in Zapier.

Note: A Zap can only have one Trigger, but multiple Actions.
1.2 - Triggers

A Trigger is an event that starts a Zap. For example, if you want to automate sending a text message each time a new appointment is booked, the "new appointment" is the Trigger.
Triggers available with Appointy:
1.2.1 When a new appointment is created
1.2.2 When an appointment is cancelled
1.2.3 When an appointment is changed (Rescheduled)
1.2.4 When a new customer is created
1.3 - Actions
An Action is an event a Zap performs. For example, if you want to send an SMS each time a new appointment is booked, "send a text message" is the Action.
Action available with Appointy:
1.3.1 Create a new customer
2. How to connect Appointy to Zapier?
The following will go over a quick example of how to configure Appointy on Zapier.
2.1 If you have not already done so, sign up for Zapier.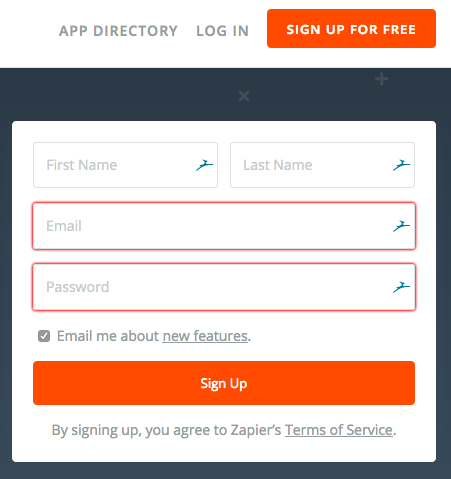 2.2 Sign in to Zapier and select Make A Zap.

2.3 After selecting "Make A-Zapp", you will be prompted to select a trigger.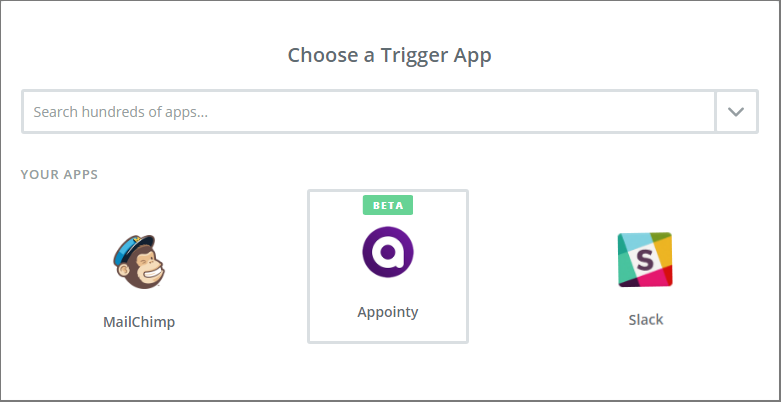 2.4  When you add Appointy as either the trigger or action, you will need to connect your Appointy account.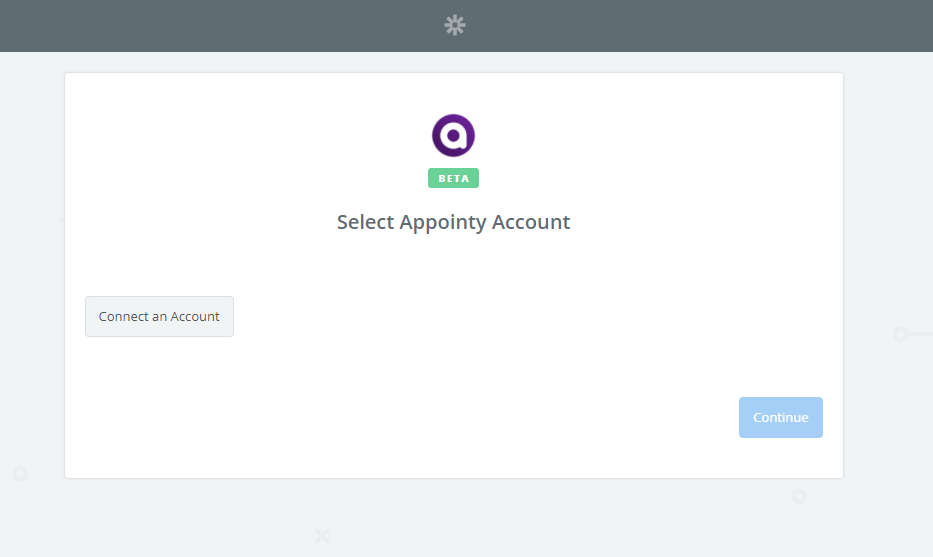 2.5 Use your credentials to connect your Appointy account to Zapier.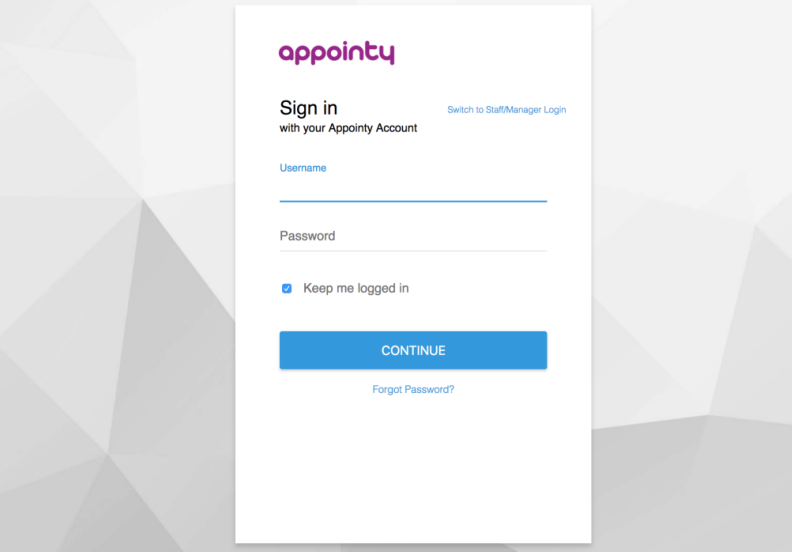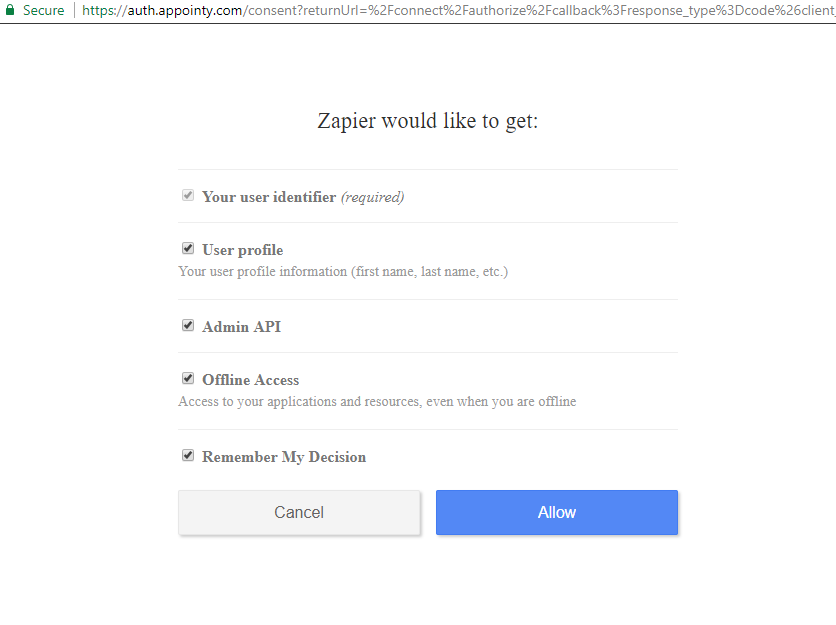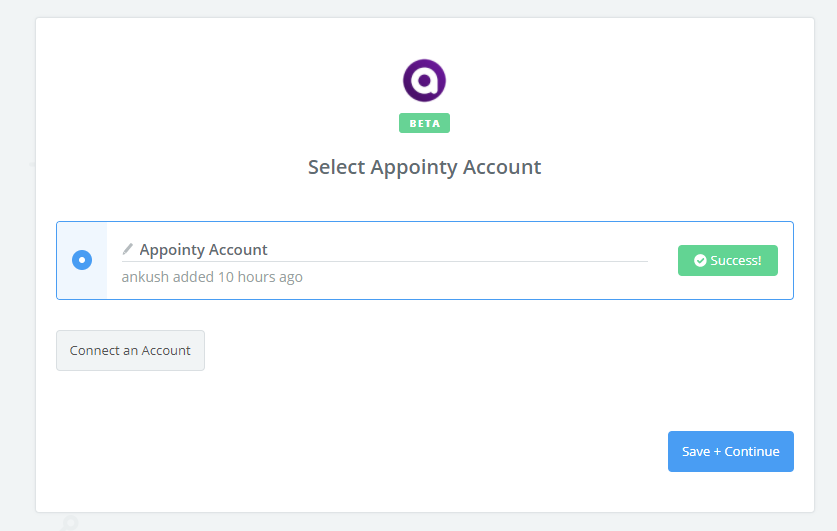 Once that's done you can start creating an automation! Use a pre-made Zap or create your own with the Zap Editor. Creating a Zap requires no coding knowledge and you'll be walked step-by-step through the setup.


Need inspiration? See everything that's possible with Appointy and Zapier
3. Pre-made Zaps with Appointy
https://vimeo.com/259131587/f0801455fe  
https://vimeo.com/259836574/96c38f08f4
4. FAQs
 4.1 Are there any pre-requisite for the integration?
 
 - NO

4.2 Is the integration completely free?

- Yes, the integration is completely free from our end. Zapier also offers a free account forever. However, Zapier charges for integration with select few apps (premium apps). You can check Zapier pricing here.
4.3 Is my Data secure?

The integration always sends your Appointy data to Zapier over an encrypted HTTPS connection, which ensures the connection between your Appointy account and Zapier is secure.

  We also recommend familiarizing yourself with Zapier's Terms of Service.
4.4 Could not find the Zap with Appointy I am looking for. What should I do?

- Send us an email at contact@appointy.com. We will be more than happy to create the Zap for you.
4.5 Could not find the trigger or action I am looking for. What should I do?
- Send us an email at contact@appointy.com. We will be more than happy to introduce the trigger/action if possible.

5. View integrations