Undefined NaN (see the screen capture below) comes up only  when you have integrated Appointy calendar on your website and the 3rd party cookie acceptance of your browser is not set to "as always". It will never come up if you directly open your client calendar URL.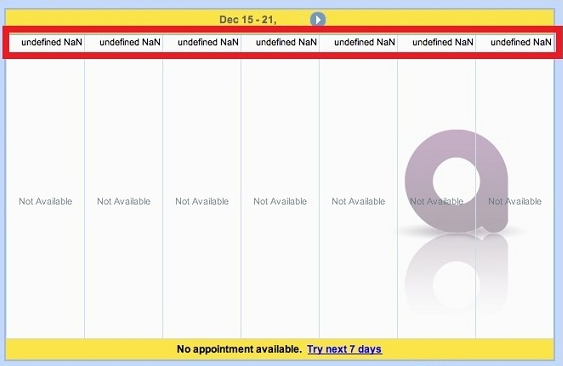 On iPhone/iPad/Mac "3rd party cookie acceptance" is set as "from visited" by default. This doesn't let create sessions and that ultimately shows up as undefined NaN text . This is not at Appointy's end, and there's nothing much that we can do about it.
Here're quick tips to help you troubleshoot (You can use either one of them):
Tip 1: Instead of "http://" use https:// while integrating iframe code of Appointy calendar on your website. "https://" is a premium feature and a part of PRO and above membership.
Tip 2: You can put the instruction on your website, for your clients, to set the "3rd party cookie acceptance" as "always"
Tip 3: Integrate "Schedule Now" button on your website so that the Appointy calendar is opened in a different page.
If you have made the above amendments and still having any further issues, please reach us at contact@appointy.com with complete details. And our team will be happy to troubleshoot your concern ASAP.